Forum rules
Each TTOC Member can post one thread to contain a full journal of their TT ownership.

This can be a full blown build thread or as simple as a set of pictures, the choice is yours.
---
---
---
---
---
Posts: 4118
Joined: Wed Feb 29, 2012 8:32 pm
TTOC Membership: 00745
Location: Limekilns Scotland
Has thanked: 148 times
Been thanked: 178 times
dzTT wrote:Just kept all my spare change in the boot, out of Zoes way
Well the truth is out now then
you keeping secrets already and your not even wed yet, poor show kid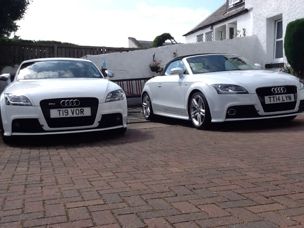 ---
Posts: 1447
Joined: Fri Sep 07, 2012 7:41 am
TTOC Membership: 01917
Location: Falkirk
Has thanked: 51 times
Been thanked: 103 times
Som of you may be aware I had my car in last week to get the lacquer peel looked at (The lacquer peel is less than an inch square).
The service guy was adamant that it wouldnt be covered under warranty as 'the bumper is too close to the 1/4 panel'
, I got them to send the report off to Audi anyway to see what they say.
At the same time they decided to give me a quote for the work...£515
really?
I'll wait to see what Audi say first but it looks like I'll be getting it painted myself

---
Posts: 4118
Joined: Wed Feb 29, 2012 8:32 pm
TTOC Membership: 00745
Location: Limekilns Scotland
Has thanked: 148 times
Been thanked: 178 times
What does he mean the bumper is to close to the quarter panel ?
It's like saying the bonnet is to close to the wing ffs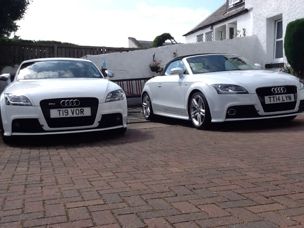 ---
Posts: 1447
Joined: Fri Sep 07, 2012 7:41 am
TTOC Membership: 01917
Location: Falkirk
Has thanked: 51 times
Been thanked: 103 times
Trev wrote:What does he mean the bumper is to close to the quarter panel ?
It's like saying the bonnet is to close to the wing ffs
He said the left side was closer together than the right side thats whats causing the lacquer to peel due to friction between the panels
I can't tell a difference between the gaps but borrowing some vernier calipers tonight and gonna measure the distances myself

---
Posts: 4118
Joined: Wed Feb 29, 2012 8:32 pm
TTOC Membership: 00745
Location: Limekilns Scotland
Has thanked: 148 times
Been thanked: 178 times
dzTT wrote:

Trev wrote:What does he mean the bumper is to close to the quarter panel ?
It's like saying the bonnet is to close to the wing ffs

He said the left side was closer together than the right side thats whats causing the lacquer to peel due to friction between the panels

I can't tell a difference between the gaps but borrowing some vernier calipers tonight and gonna measure the distances myself
So his point is that it might of been bumped
they will try anything to get out of paying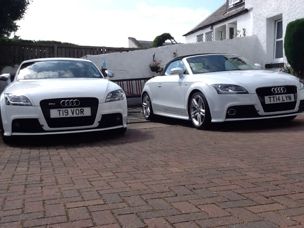 ---
Who is online
Users browsing this forum: No registered users and 1 guest