Vice Chairperson
Posts: 2403
Joined: Tue Mar 13, 2012 9:50 pm
TTOC Membership: 00260
Location: HARTLEPOOL AKA GODS COUNTRY
Top work Nick
---
Posts: 6
Joined: Mon Mar 19, 2012 5:40 pm
TTOC Membership: 00072
Little I can add to the comments already made...big thank you to all those who've made it possible!
---
Posts: 5
Joined: Tue Aug 07, 2012 7:43 pm
TTOC Membership: 02269
Please Help

I notice on may posts people are able to display their membership number in the strip alongside the TTOC symbol when posting comments etc.

Can someone please advise me on how to set this up as so far I have failed miserably.

thanks keith
keith o
---
Membership Secretary
Posts: 1953
Joined: Wed Dec 07, 2011 9:33 pm
TTOC Membership: 00398
Location: Edge of an Empire Garrison Town
Ta Daaaaaaaaaa
---
Hi, My first post.I notice that improvements are happening with a few aspects of the club,which are certainly overdue,but most welcome. Cheers,
---
Hello from South Yorkshire.
I'm a new member having recently bought a 2002 Quattro Roadster with a hard top.
Love the car, it's done 127000 miles, everything works and it drives like new.
Can't wait till summer to get the top off!
---
Club Treasurer
Posts: 811
Joined: Wed Dec 07, 2011 9:34 pm
TTOC Membership: 00908
Location: Laurencekirk
Not much chance of the roof down at the moment
TTOC Facebook page:
TTOC
TTOC Twitter feed: https://twitter.com/#!/TT_Owners_Club
Membership of the TT Owners Club starts at £25

here
---
Posts: 4118
Joined: Wed Feb 29, 2012 8:32 pm
TTOC Membership: 00745
Location: Limekilns Scotland
phope wrote:Not much chance of the roof down at the moment
Wimp
it's only -2*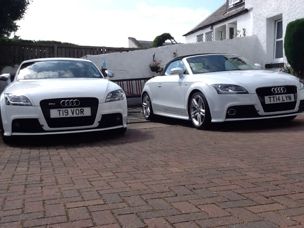 ---
Vice Chairperson
Posts: 2403
Joined: Tue Mar 13, 2012 9:50 pm
TTOC Membership: 00260
Location: HARTLEPOOL AKA GODS COUNTRY
phope wrote:Not much chance of the roof down at the moment
You just need a wooly hat and a pair of gloves mate
---
Posts: 22
Joined: Tue Jan 29, 2013 8:24 pm
TTOC Membership: 02354
Location: Nottingham
Hello & welldone,
I have only been a member for a short period but have been taken back by how well it functions
keep up the good work
I am proud to be part of your network
look forward to meeting most of you in the future
Johno.
---